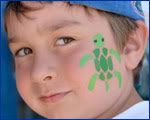 The Board of County Commissioners has proclaimed April as Sea Turtle Awareness Month according to a report received by Historic City News from Habitat Conservation Coordinator Tara Dodson.
To celebrate, St. Johns County Recreation and Parks, Environmental Division, Solid Waste and Tourist Development Council have partnered with the St. Johns Cultural Council, Guana Tolomato Matanzas National Estuarine Research Reserve (GTMNERR) and Peace Passers to promote and educate St. Johns County residents and visitors on the importance of species diversity, the protection of the coastal environment and how our actions can positively impact this fragile habitat.
Every spring and summer sea turtles return to nest along our coastline here in St. Johns County. People and sea turtles can co-exist if we take steps to share and protect this common habitat.
Those who live in St. Johns County have a special opportunity and responsibility to protect these magnificent creatures and their vulnerable nesting and feeding habitat. We welcome our returning turtles by having an annual festival to educate the public on ways they can improve their habitat.
Throughout April, the following activities support education and awareness of sea turtles:
Saturday, April 4, 9:00 am – Midnight:
Soccer tournament, beach clean up, and After Party with Lighthouse Music, raffles and arts at the St. Johns Cultural Center to benefit Keepers of the Coast and Peace Passers. Partners include St. Johns Cultural Council, Tourist Development Council, Beaches Adult Soccer League, Flagler College and Peace Passers.
Friday, April 10, 5:30 – 7:30 pm:
Wine Tasting at Wine Warehouse, with proceeds to benefit Keepers of the Coast.
Saturday, April 18, 10:00 am – 3:00 pm:
Sea Turtle Festival at the St. Johns County Fishing Pier Pavilion. Help us help sea turtles by attending our Annual Sea Turtle Festival and learning ways you can help. Come explore the children's activity center, the education station developed by Venture Crew #347, win a prize when you complete our passport challenge, learn about beach lighting and the impacts it has on sea turtles, see what a Turtle Excluder Device (TED) looks like, visit the education tables, purchase marine-related arts and crafts from local artisans, listen to local music and eat great food.
Saturday, April 25, 8:00 – 10:00 am:
Turtle Town Cleanup! Help us prepare the beaches for sea turtle nesting season by participating in a beach cleanup organized by Chris Benjamin of the Solid Waste Division.
Share your thoughts with our readers >>