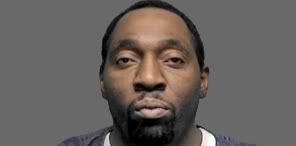 Kevin Kelshaw has reported to Historic City News that a 35-year old Hastings man was arrested on a charge of home invasion robbery yesterday evening stemming from an incident that occurred earlier that morning.
The suspect, identified as Rodney Laverne Dallas, 35, 805 Merkerson St., was arrested on an arrest warrant Thursday evening and was booked into the County Jail where he remains in lieu of $500,000 bond.
The investigation began early Thursday morning when the suspect allegedly broke into a home in the 700 block of Hensley St. shortly after 4:00 a.m.
The suspect allegedly cut the screen to the rear door, pushed open a window pane, then reached his hand inside the door and unlocked it.
He entered the bedrooms of two victims where he demanded money and then allegedly threatened them. The suspect left the residence after he obtained a small amount of cash from one of the victims.
Both victims identified the suspect and then positively selected him from photo lineups.
Violent Crimes Detectives then obtained an arrest warrant for the suspect. He was located at his residence Thursday night and was taken into custody without incident.
Share your thoughts with our readers >>