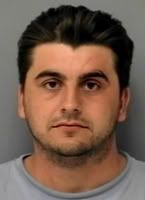 Historic City News has learned that detectives with the St. Johns County Sheriff's Office have made an arrest in connection with the alleged abduction of a Ponte Vedra Beach woman a week ago this past Friday.
A person of interest became a suspect late Monday night and was taken into custody. That subject, identified as Jasmine Osmanovic, 25 years-old who resides at 8802 Corporate Square, Unit 401, Jacksonville, was charged with extortion and was booked into the County Jail.
He will have a first appearance hearing later this morning.
He and his vehicle were located yesterday in Duval County and Osmanovic was brought in for questioning.
The victim, 37 year-old Quinn Gray of Ponte Vedra Beach was reported missing from her residence by her husband when she failed to return home on September 4th.
Deputies found her white 2008 Mercedes SUV that following Sunday morning in the Ponte Vedra Beach area.
Anyone with any information concerning this investigation is asked to contact Detective Kevin Kier at the St. Johns County Sheriff's Office at (904) 824-8304.
You can also remain anonymous and possibly be eligible for a cash reward by calling CrimeStoppers at 1-(888) 227-TIPS (8477).
"Additional charges are pending further investigation and additional information will be released when it becomes available", said Kevin Kelshaw.
Let us know what you think >>