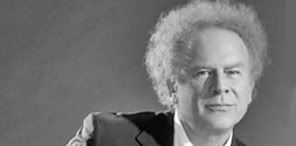 Communications Director Jay Humphreys with the St. Augustine Visitors and Convention Bureau has reported to Historic City News that the other half of Simon & Garfunkel will perform standards from the American songbook as well as hits such as "Bridge Over Troubled Water." live at the St. Augustine Amphitheatre, Sunday.
Enjoy an evening with legendary performer Art Garfunkel when he teams up with the Jacksonville Symphony Orchestra for a night to be remembered at the St. Augustine Amphitheatre. The performance begins at 5:30 p.m. Tickets can be purchased at www.Ticketmaster.com, and are $25-$55. The St. Augustine Amphitheatre is located at 1340 A1A South in St. Augustine. For more information, call 904.471.1965.
OTHER WEEKEND EVENTS:
Friday: February 6
FIRST FRIDAY ART WALK
Join one of St. Augustine's most popular cultural events on the first Friday of every month from 5 to 9 p.m. Enjoy the latest exhibits, music, entertainment and refreshments at over 20 participating galleries. This month, Ripley's Believe It or Not Museum becomes a regular stop on the Art Walk – step into their parlor from 6 to 9 p.m. and see the works of local artists and enjoy free refreshments. Ripley's featured artist for February is photographer Rhonda Serra. Art Walk tours begin at Rembrandtz American Craft Gallery, 131 King Street. St. Augustine Sightseeing Trains and Old Town Trolleys offer a complimentary shuttle service to most of the galleries. Shuttles run on a continuous loop every 30 minutes. For more information, call 904.829.0065
Friday, Saturday and Sunday: February 6-8
ST. PHOTIOS SHRINE ANNIVERSARY DEDICATION
Join the 27th annual pilgrimage celebrating of the feast of the patron of the St. Photios Greek Orthodox National Shrine in St. Augustine. The dedication begins on Friday with Orthos Service and Liturgy at the Shrine Chapel followed by a luncheon honoring Joan Petrakis, author of The Needle Arts of Greece: Design and Techniques at the Holy Trinity Greek Church located at 2940 County Road 214. On Saturday at 6 p.m. and Sunday at 9 a.m., His Eminence Metropolitan Alexios of Atlanta will celebrate various services at the St. Photios Chapel, 41 St. George Street in St. Augustine. On Sunday, services will be followed at 1 p.m. by the National Shrine Day Luncheon at the Casa Monica Hotel. This year's luncheon keynote speaker is Eleni Gage. For more information, please call 904.829.8205
THE DARK KNIGHT AT IMAX
Be overwhelmed by Batman, The Joker and more in this special limited engagement of the Academy Award-nominated blockbuster The Dark Knight. The first time a major feature film has been shot with IMAX cameras, the six-story-tall projection of The Dark Knight is sure to impress. The film will be shown Thursdays thru Sundays until February 22 (with a special President's Day showing on Monday, February 16). Tickets are $12 for adults and $10 for children (ages 3-12). For more information, show times, and to purchase tickets call 940.4123.
Saturday: February 7
LIVING HISTORY DAY AT FORT MATANZAS
Take the National Park Service's ferry to Rattlesnake Island and experience daily military life at Fort Matanzas – the 18th century Spanish fort that guarded the southern approach to St. Augustine. From 10:30 a.m. until 3:30 p.m., authentically clad re-enactors will demonstrate Spanish muskets and cannons at the fort. Admission is free. Fort Matanzas National Monument is located on A1A at the south end of Anastasia Island approximately 15 miles south of St. Augustine. For more information, call 904.471.0116
FAVER-DYKES STATE PARK – A DAY IN OLD FLORIDA
Experience what life was like in a 16th century Spanish camp or a 17th century Florida trapper trading camp when Friends of Faver-Dykes State Park host this family fun day-long event in the park. Hands-on living history activities include pine needle basketry, indigo dyeing, and a demonstration on the art of mullet net knitting. There will be plenty of food available including Minorcan Clam Chowder, hot dogs, barbecue and baked goods. Other activities include children programs, a birding walk, an estuary walk and a Native American program. Live music and storytelling performers are scheduled throughout the day. Hours are 10 a.m. to 3 p.m. Admission is $3 per vehicle (up to 8 people). For more information, call 386.446.6783.
BRICK BRASH AT WHITNEY LAB
Enjoy a fun-filled evening of great food and drink, live music, an art show & sale, and silent auction & raffle to raise funds for a new dormitory building to house students and visiting scientists at the Whitney Laboratory. The fun takes place from 5 to 9 p.m. at the Center for Marine Studies, Whitney Laboratory for Marine Bioscience, 9505 Oceanshore Blvd. (Marineland) St. Augustine. Tickets are $75 per person. For more information, call 904.461.4000
Sunday: February 8
TOUR OF ST. AUGUSTINE HOUSES OF WORSHIP
Explore St. Augustine's rich heritage and beautiful architecture on a tour of 13 houses of worship in the downtown area. This self-guided walking tour provides an opportunity to learn about the oldest city's various religions and their historic houses of worship. Hosts will be available at each stop to share the rich heritage and interpret the beautiful architecture of their church or synagogue. St. Augustine Sightseeing Trains (the Red Train) will provide a special free shuttle between locations and can be boarded at any participating house of worship along the tour. Maps will be provided and parking will be available at some of the locations. The tour is from 1:30 to 4 p.m. There is no charge for admission to the houses of worship. Donations will be appreciated. For more information, call Grace United Methodist Church, 904.829.8272.
CONCERTANTE SEXTET STRING ENSEMBLE
Experience Concertante Sextet, six virtuoso string players, as they perform varied combinations of instrumentals. As an ensemble, they have performed across America, gathering rave reviews from major publications. They have appeared on Minnesota Public Radio's St. Paul Sunday and perform regularly at Merkin Hall in New York City as well as being Resident Chamber Music Ensemble at the Whitaker Center for Science and the Arts in Harrisburg, Pennsylvania. The performance begins at 2 p.m. at the Flagler College Auditorium located at 14 Granada Street in St. Augustine. Tickets are $22 per person. For more information, call 904.797.2800
ST. AUGUSTINE ART ASSOCIATION: FIGURE & PORTRAIT SHOW
Experience the opening of an exhibit of artwork whose primary subject is the human body or face, figure study, portrait or bust, a single person, or people in groups. The St. Augustine Art Association Gallery, located at 22 Marine Street in St. Augustine is open noon to 4 p.m. Tuesday through Saturday and 2 to 5 p.m. on Sundays. The Figure & Portrait Show runs through March 1. Admission is free. For more information, call 904.824.2310
AUTHOR JACK HUNTER
Meet St. Augustine's own Jack Hunter at a special book signing for his latest novel The Ace. Hunter is the world's most popular aviation fiction writer and is best known for his The Blue Max which was adapted for the big screen starring George Peppard, Ursula Andress and James Mason. The book signing will take place from 1 to 4 p.m. at Barnes & Noble, 1930 US 1 South in St. Augustine. For more information, call 904.826.0722.
NOTE: St. Johns County residents with a valid ID are always admitted free of charge to Government House Museum, the Lightner Museum, the Colonial Spanish Quarter Museum, the Fountain of Youth, the Ximenez-Fatio House, the Oldest Wooden Schoolhouse, and the Spanish Military Hospital Museum and the Father Miguel O'Reilly Museum. The daily tours and wine tastings at the San Sebastian Winery are free to everyone.

Also, although donations are welcomed, admission is free to everyone at the Authentic Old Drug Store, Fort Matanzas National Monument, St. Photios Chapel, the Peña-Peck House and the Father Miguel O'Reilly Museum.
Let us know what you think >>