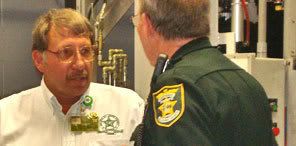 A 27-year old St. Johns County man was arrested yesterday on a charge of sexual activity with a child under the age of 18 according to a report to Historic City News from SJSO Media Relations Officer Kevin Kelshaw.
The suspect, identified as Augustin Caballero Martinez, 27, was located in Duval County where he was arrested and booked into the Duval County Jail.
The investigation began over the weekend when the female victim's mother found the suspect and victim together engaged in alleged sexual activity at a residence in the southeast part of the county.
The mother began to beat the suspect, who fled out of the home with only his clothes, and he had not been seen since.
The victim was interviewed by detectives with the Sheriff's Office Special Victim's Unit and stated that this was not the first time the suspect had a sexual encounter with the victim.
Detectives obtained a felony arrest warrant for the suspect who was located in Jacksonville with assistance from the U.S. Marshal's Office. He is being held in lieu of $250,000 bond and will be returned to St. Johns County to face the charges. Additional charges are pending further investigation.
Let us know what you think >>