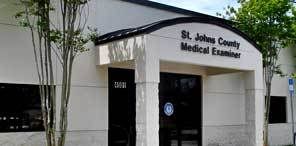 Historic City News is awaiting the results of the autopsy by District Medical Examiner, Dr. Terrence Steiner in order to report a positive identification and cause of death of the victim of an apparent drowning over the weekend.
The victim has been tentatively identified as a 25-year old Gainesville man; Barry Bernard, who resided in the 1000 block of NE 5th Ave., in Gainesville.
A relative living in Canada was contacted today for family notification.
Bernard was reportedly swimming with his 21-year old girlfriend Sunday afternoon in the ocean near the Matanzas Inlet. The two were using boogie boards in the rough water when Bernard lost his board and grabbed his girlfriend's board.
It is believed that Bernard lost his grip with that board and went under water. He could not be located.
Deputies searched the beach by air and land through the evening without locating the victim.
Monday morning at 11:24 a.m., a 55-year old Silver Springs, Florida, man was in the ocean in the 5900 of A1A South when he spotted a body near him. He along with assistance of a Gainesville, Florida, couple pulled the body to the sand and other witnesses called the Sheriff's Office.
The victim washed ashore about 6.3 miles from where Bernard was last seen nearly 23 hours before.
Share your thoughts with our readers >>