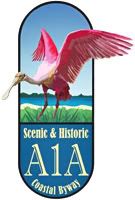 Wendy Thomson, project manager for the Friends of A1A Scenic & Historic Coastal Byway, reported to Historic City News that they need beach clean-up volunteers.
Volunteers should gather at 8:00 a.m. Saturday, November 14th at the St. Augustine Beach pier and November 28th at the Varn Park parking lot. All of the clean-ups are expected to last until 11:00 a.m.
Wear sunscreen, sunglasses, hats and appropriate clothing. Volunteers will be provided with gloves, trash bags and equipment for trash pick-up. "Bottled water will be available for the participants", said Thompson.
Each event will feature a raffle for the volunteers, with the winner of the St. Augustine Beach raffle receiving a gift certificate for lunch for two at the St. Augustine Yacht Club and the winner of the Varn Park raffle receiving a gift certificate to Fish Tails Deli, Thomson said.
The Friends coastal cleanup program is made possible through funding from the Florida Department of Environmental Protection's Coastal Management Program and the National Oceanic and Atmospheric Administration.
The Friends of A1A Scenic and Historic Coastal Byway is a non-profit organization that protects, preserves, and enhances resources along the A1A National Scenic Byway. This citizen's advocacy group partners with municipalities, governmental agencies and other civic groups to maintain and improve resources along the corridor.
Designated in 2002, the Byway is rich in history, nature, archeology, culture, scenery and recreation. The Friends of A1A's efforts benefit residents and travelers alike by maintaining the identified intrinsic resources while allowing economic development.
Let us know what you think >>