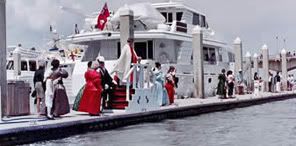 On Palm Sunday, April 5, vessels ranging in size from shrimp trawlers to motorboats will receive a traditional blessing from the Very Reverend Thomas S. Willis, pastor of the Cathedral-Basilica of St. Augustine according to an announcement received by Historic City News.
Revered Willis will administer the blessing as each boat sails past his position on the docks of the St. Augustine City Marina.
The colorful blessing ceremony, which has taken place each Palm Sunday since 1946, will begin at noon when a procession of dignitaries led by Reverend Willis will walk from the Cathedral Basilica to the City Marina.
When they arrive at the waterfront, the parade of boats decorated with flags and bunting will begin. The boats will approach from the south of the Bridge of Lions and reverse their courses with a sweeping turn that will take them abreast of the dock where each will receive a blessing.
The annual Blessing of the Fleet is a popular springtime tradition in St. Augustine, the nation's oldest city and its first maritime port. The blessing of the fleet originated at a time when the city was home to a large fleet of shrimp boats and it was hoped the blessing would help insure a bountiful catch.
Today, the tradition has been expanded to include a blessing of safety for commercial and sport fishing boats as well as recreational boats of all sizes.
No reservations are required to receive the blessing—interested boaters are simply asked to line up south of the bridge and wait their turn to sail past the docks.
For full details on the event and how to participate, contact the St. Augustine Yacht Club.
Share your thoughts with our readers >>