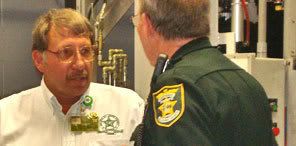 Kevin Kelshaw reported to Historic City News that detectives with the Sheriff's Office Robbery Homicide Unit are investigating the circumstances surrounding the death of a man found in a wooded area this morning.
The Sheriff's Office responded to the area in the 500 block of Dallas St. in Hastings.
A body was located that had been buried in a shallow grave in a wooded area behind several homes.
Positive identification of the body, as well as the cause of death, is pending the results of an autopsy by the District Medical Examiner.
Kelshaw informs us that foul play is suspected.
Detectives are continuing the investigation and additional information will be released to Historic City News when it becomes available.
Let us know what you think >>