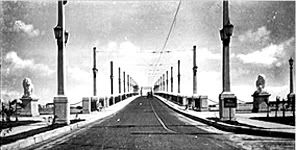 The City of St. Augustine reported to Historic City News that in just a few weeks, our community will celebrate the reopening of the historic Bridge of Lions and its return to service after over 42 months of extensive rehabilitation.
To commemorate the event, the City of St. Augustine is cooperating with the Florida Department of Transportation, Skanska, and Save Our Bridge to plan a small, yet significant ceremony.
Although the exact opening date has not been determined, planning is underway for a ceremony that will include remarks by officials, a ribbon cutting and a procession led by a group of selected pedestrians and antique vehicles.
The selected pedestrians, 27 in all and called The '27 Club because the bridge first opened in 1927, will be the official first pedestrians to cross the restored Bridge of Lions.
The Ancient City Auto Club will participate by providing a car from each decade of the bridge's service starting with the 1920s and continuing into the 21st Century.
Time will then be allowed for the general public to walk the bridge before it is brought into full service by switching vehicular traffic from the temporary bridge.
Following the reopening of the Bridge of Lions, expected to be early in 2010, the project continues with the dismantling of the temporary bridge and landscaping installation which will take approximately another year.
The completion of the entire project will be marked by the return of the two lion statues from which the bridge gets its name.
The drawing for The '27 Club is free and open to anyone of at least school age (5 years old). Only written entries are accepted — no phone calls. Only one entry allowed per person and only one entry per letter, postcard, fax or email.
All entries must be received by 5:00 p.m., Friday, December 4th to qualify.
To enter, send your name, address, phone number and email address (if available) to:
City of St. Augustine
Attn: The '27 Club
P.O. Box 210
St. Augustine, FL 32085
Fax: 904.825.1096, Attn: The '27 Club
Email: the27club@citystaug.com
Photo courtesy of the State of Florida Photographic Archives
Let us know what you think >>