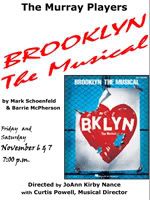 Mary Jeanne Hellings reported to Historic City News that the St. Johns County Center for the Arts at Murray Middle School will present Brooklyn, the Musical! by Mark Schoenfeld & Barrie McPherson.
The Murray Players tackle this Broadway tour de force and present a powerful and mature performance unexpected from a middle school ensemble.
With a mix of pop and soul a band of street-corner singers and storytellers set their stage in the shadow of the Brooklyn Bridge and tell a magical story: a gritty sidewalk fairy tale about a young girl searching for the father she never knew.
With just one clue to lead her she lands in the city that bears her name . . . Brooklyn.
These storytellers take us from Paris to New York to war-torn Vietnam and back again, all without leaving their Brooklyn street corner.
Under the direction of JoAnn Kirby-Nance with Curtis Powell as Musical Director, these young performers belt out such hits as Heart Behind These Hands; Once Upon A Time and Brooklyn in the Blood.
Performances are scheduled for Friday, November 6th and Saturday, November 7th, at 7:00 p.m. in the Murray Performing Arts Auditorium located at 150 N. Holmes Blvd. in St. Augustine, FL
Tickets are $7 for Adults and $4 for students.
For more information please contact JoAnn Kirby-Nance at Murray Middle School 904-547-8470.
Let us know what you think >>