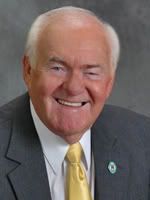 Randy Brunson announced to Historic City News on Monday that he has filed with the Supervisor of Elections office to run as a candidate for St. Johns County Commission, District 2.
Brunson worked as Senior Vice President in the commercial lending department of Heller Financial; a large bank holding company. Brunson was responsible for 14 states in the southeast and southwest, before he retired.
In 2004, Brunson was an elected commissioner to the St. Johns – St. Augustine Airport Authority on the platform to make the airport self sufficient. He joined the director as well as past and present Commissioners to make this one of our primary goals. At the end of the next tax year, the authority will be off the tax rolls. Brunson told us, "This is a huge accomplishment".
Brunson has been married for 33 years to his wife, Carol, who is an accountant. Together they have one daughter, Tracie, who is married to Corey Mara. Brunson has two grandsons living in St. Johns County.
Brunson says Carol shares his views on civic, religious, charitable and government issues and stands with him as his partner.
Brunson serves as a civic community leader. He has been involved as Chairman of the North East Florida Business, Industry and Government board of the Transportation Planning Origination; serving on this board with elected officials from surrounding counties and the Secretary of Transportation. Brunson says he is the best candidate to serve as a liaison with state and federal government in order to receive St. Johns County's fair share of funds for quality of life projects and infrastructure.
Among some of the notable organizations in which Brunson has participated, he lists Kiwanis – where he served as an officer, Elks, Economic Development Council of the St. Johns Chamber of Commerce – where he served as an Ambassador, a member of the Saint Augustine Pilots Association, a member of the US Coast Guard Auxiliary, St. Augustine Yacht Club – where he has served as Commodore, he is a graduate of the St. Johns County Sheriff's Office Civilian Law Enforcement academy, member of the St. Augustine Sportsman Club as well as an organizer of DAY BREAK (a men's Christian support group).
Brunson is on the Board of Directors of Habitat for Humanity. Since moving to St. Augustine, Brunson builds three to four homes a year to assist the St. Johns County affordable housing program. He has been Chairman of the St. Johns Builders Council.
Brunson lists some of the priorities in his campaign to include bringing new jobs to the area, a need to promote business and clean industry, a continued review of county expenses, lowered spending and support of public safety.
Brunson will list more information about his priorities and goals for the future on his website (www.randybrunson.com) — which he told us will be active in November.
"Everybody wants lower taxes" Brunson said. "I want to promote common sense good government so as not to have to raise our millage."
When asked why voters should vote for him, Brunson told us "Consider my business experience and love for the people who live in this county."
Brunson is a Republican. The commissioner who currently holds the seat, Ron Sanchez, was elected as a Republican in 2006, and says he is fairly sure he will run for re-election. However, a recent news article quotes Sanchez as saying, "We'll just have to see what happens". According to the article, Sanchez said. "I'm not going to let that become a priority."
Florida is a "closed primary" state, so Republicans, county wide, will vote in the Primary Election to be held on August 24, 2010. Whoever wins in the District 2 Republican Primary, and whoever wins in the Democratic Primary, should they run, will face Merrill Roland who is registered as an independent candidate in the General Election on November 2nd.
Let us know what you think >>