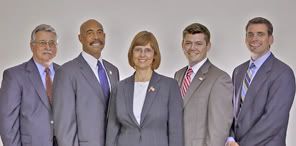 Historic City News has learned that "first up" in tomorrow's regular meeting before the St. Johns County Commission, will be three budget presentations from county constitutional officers.
Doug Timms, Director of the Office of Management & Budget for St. Johns County, will introduce presentations from Penny Halyburton – Supervisor of Elections, Cheryl Strickland – Clerk of Courts, and David B. Shoar – Sheriff.
The largest budget request of the three will be the sheriff's request; however, there may be some good news this budget year.
The sheriff is expected to submit a budget reflecting a 4.25% reduction over Fiscal Year 2009.
The sheriff's budget has grown considerably every year; often attributed to steady growth and development across the county. In recent years, the commission has balked, but approved, requests for spending increases at the sheriff's office.
This year, Shoar will submit a budget reported to be over $2.5 million less than last year. According to the sheriff's office, the total budget being submitted tomorrow for funding is about $57.2 million.
Share your thoughts with our readers >>