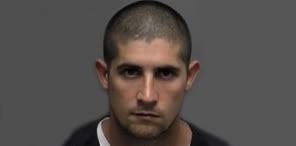 Kevin Kelshaw has reported to Historic City News that a 28-year old St. Johns County man was arrested on a charge of burglary to a dwelling Wednesday night.
The suspect, identified as Michael A. Klingler, 26, 14 Atlantic Oaks Cr., was booked into the County Jail where he remains in lieu of $25,000 bond.
Deputies responded to a report of a burglary in progress in the first block of Veronese Ct., at 11:20 p.m. Upon arrival Deputy Zeke Kelly located the described suspicious vehicle parked on Veronese Ct. with a male subject in the driver's seat.
The subject stated he was waiting for his brother, however, he stated he did not know where he was.
The deputy then responded to the rear of a nearby residence where he observed a second subject appear on the balcony and then throw a duffle bag to the ground and went back inside. The deputy waited by some nearby bushes for the subject to exit the residence and as he ran towards the parking lot, the deputy tackled him and secured him.
The suspect was identified as Klingler who told the deputy that he came to the residence to get some "pills" from a guy that owed him.
When the subject wasn't home the suspect pried open the front door and entered to look for pills and other valuables.
Inside the duffle bag deputies located two paintball guns and chargers, four C02 canisters, assorted paintballs and $80 in change, that will be returned to the victim.
The driver, who was the suspect's brother, was questioned and released.
Let us know what you think >>