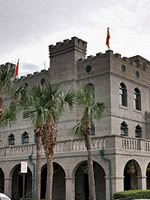 Ralf Ingwersen reported to Historic City News that three of the stars from the Sy-Fy Network hit show GhostHunters recently led a paranormal investigation through Ripley Entertainment's Castle Warden.
Steve Gonsalves, Dave Tango, and Dustin Pari of The Atlantic Paranormal Society (T.A.P.S.) were joined by dozens of fans for an exclusive late night foray through Ripley's Castle Warden on October 17th. The St. Augustine landmark built in the 1880's has been the home to the original Ripley's Believe It Or Not! Museum since 1950 and has also been regarded as one of the most haunted properties in the Southeastern United States. Numerous guests and employees have reported hearing voices and seeing apparitions inside the building over the years. Some even claim to have smelled smoke from a 1940's fire that killed two women when the building was owned by Pulitzer Prize winner Marjorie Kinnan Rawlings and served as the Hotel Castle Warden.
During the T.A.P.S. investigation, several guests reported a shadowy figure moving quickly along a first floor wall, others reported cold spots on a third floor staircase, and many guests on the third floor recorded EMF meter spikes in response to questions about the two dead women – in the same room where one of them was found.
This investigation will not be televised by the T.A.P.S. crew, but they have not ruled out the possibility of a return to Ripley's Castle Warden in the future. Video and photos from the T.A.P.S. investigation will soon be available on the Ripley's Ghost Train Adventure web site.
Ripley's Ghost Train Adventure offers nightly tours through St. Augustine and into Castle Warden. In addition to the regular nightly Ghost Train Adventure during Halloween weekend, October 29 -31, Ripley's will be offering two special nightly tours, Ghost Train Adventure Midnight Madness Tour and the Ghost Trains Witching Hour Tour…. And, Ripley's will be providing not-too-scary adventures for families during the Ripley's Spooky Rock for Kids on October 30 & 31.
Let us know what you think >>