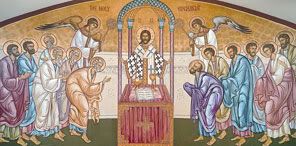 Fr. Thomas S. Willis reported to Historic City News that Cathedral Basilica of St. Augustine Plans a Eucharistic Procession to Celebrate Feast of the Holy Eucharist.
On Sunday, June 14 is the Catholic Church celebrates the Solemnity of the Body and Blood of Christ. This feast, which commemorates the institution of the Sacrament of the Eucharist at the Last Supper by Jesus Christ, began in the thirteenth century to give the faithful the opportunity to celebrate the gift of Christ in the Eucharist.
The Cathedral Basilica of St. Augustine will hold its annual Eucharistic Procession in conjunction with this feast on Sunday following the 11:00 a.m. Mass. The Eucharist, which Catholics believe to be the real presence of Christ, will be brought in procession through the streets of the city. The processional route will be south on St. George Street from the Cathedral, then east on Bridge Street turning north onto Aviles Street. The procession will then return to the Cathedral for Benediction of the Blessed Sacrament.
The pastor of the Cathedral Parish, Fr. Thomas Willis, remarked, "These processions are part and parcel of the heritage of the Catholic faith. For some 700 years, especially in Europe, thousands and thousands of people take part in them each year at this time as a way of expressing their faith. I think Pope Benedict's words a few years ago that 'we take Christ to the streets' is an apt description of why this is an important part of Catholic liturgical practice."
During the procession the participants will be invited to join in the praying of the rosary as well as the Litany of the Most Holy Eucharist.
The Cathedral will have its usual schedule of Masses on Sunday at 7:00, 9:00 and 11:00 a.m. and 6:00 p.m. The Vigil Mass for the feast will be celebrated on Saturday, June 13 at 5:00 p.m.
Share your thoughts with our readers >>