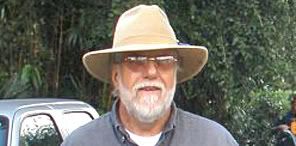 Historic City News has been asked to invite our readers to join City Archaeologist Carl Halbirt and Assistant Archaeologist Melissa Dezendorf as they celebrate Florida Archaeology Month 2009 at the VIC on the last three Fridays in March.
Offered free of charge, twice daily, are three presentations that highlight life in San Agustín as revealed by excavations throughout our Ancient City.
March 13, 2009 The Case of the Disarticulated Donkey 10:00 a.m. & 2:00 p.m.
What, or who, killed this beast of burden? Was it murder? A labor dispute? Another nefarious act?
Join us as we try to solve this 17th-century mystery!
March 20, 2009 Exploring St. Augustine's Buried Past 10:00 a.m. & 2:00 p.m.
Here's an unparalleled opportunity to see behind the scenes of the City's Archaeology Division at work!
We'll show you artifacts you might never have dreamed of—plus share details of the people who used them in their daily lives!
March 27, 2009 Artistic Expression in the Archaeological Record 10:00 a.m. & 2:00 p.m.
A fascinating and all-too-frequently unexplored subject: artifacts as more than scientific data—artifacts as art! We'll share some of our most exquisite finds and renderings!
In addition to the presentations, renowned local artist Dean Quigley, who specializes in interpretation of our historical past, will display a collection of his art in the VIC Gallery. Quigley recently participated in the 500th anniversary celebration of the founding of Pensacola, providing three commissioned paintings to mark that event.
The theater at the Visitor Information Center (VIC) accommodates up to 60 people per program. Be sure to secure your seat by calling 825-1029. Please leave a message, giving your name, a contact number, and specify the date and time of the show you wish to attend. Your call will be returned to confirm your reservation.
Please note that we will accept reservations for only one program per call so that everyone who wishes has the opportunity to attend.
Ample parking is available in the VIC Garage for $1.25 an hour or 50 cents an hour by obtaining a prepaid PayNow card at the City of St. Augustine's Financial Services Center. Located behind City Hall, at 50 Bridge Street.
Let us know what you think >>