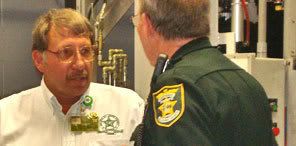 Kevin Kelshaw reported to Historic City News that last week the Youth Services Unit of the St. Johns County Sheriff's Office worked an operation to conduct compliance checks on licensed retail businesses that sell alcoholic beverages.
With the use of a 19-year old underage investigative aide, a total of 13 businesses were checked in the County last Thursday.
Clerks at five of those establishments sold alcoholic beverages to the minor. Charges of unlawful sale of alcoholic beverages to a minor, a misdemeanor, were signed against the five clerks. The businesses will also face administrative inquires by the Florida Division of Alcoholic Beverages and Tobacco as to the future status of their beverage license. Penalties could range from warnings, suspension or revocation of their beverage license along with financial penalties.
"We need to raise awareness of the problem of underage drinking in St. Johns County," Sheriff David Shoar said today. He added, "It is our hopes that these operations will deter businesses and individuals from providing minors in our community with alcohol."
Clerks at the following establishments were charged with selling alcohol to a minor:
P J Liquors, 3501 N. Ponce De Leon Blvd.
Sunoco, 2199 N. Ponce De Leon Blvd.
Broudy's Liquors, 35 N. Ponce De Leon Blvd.
King Food Mart, 667 W. King St.
Ken's Corner Store, 890 W. King St.
This was the second time a clerk at the King Food Mart and Ken's Corner Store sold to an underage investigative aide within the past year.
Clerks at the following businesses refused to sell to the minor:
Citgo, 2110 U.S. 1 South
Amity Marina, 1106 Friendship Dr.
Broudy's Liquor, 140 S.R. 13 North
CVS, 57 Pacetti Rd.
Publix, 455 S. Legacy Tr.
Daily's, 120 Center Place Way
Kangaroo, 4760 A U.S. 1 North
Kangaroo, 4540 U.S. 1 North.
Share your thoughts with our readers >>