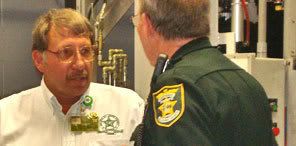 Kevin Kelshaw reported to Historic City News that a 19-month old baby girl has been taken to a Jacksonville hospital early this evening after being struck by a vehicle.
Deputies responded to the Coquina Oaks Trailer Park, 950 Sydney St. at 7:30 p.m.
The child's mother was taking trash to a trash bin and was unaware that her child was following her.
A 59-year old man was driving out of the trailer park, reportedly did not see the child and struck her with his vehicle.
The victim, Jakhriah Monique, was treated at the scene and was then transported to Flagler Hospital. She was then taken to Shands Jacksonville by air ambulance for further treatment.
The investigation is continuing.
Share your thoughts with our readers >>