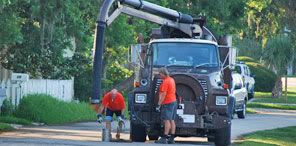 As Historic City News reporters were traveling down Riberia Street this morning, the signs warning of water contamination were visible on every telephone poll.
Citizens are being warned not to fish or swim in the waters of the San Sebastian River; bordered by The Oyster Creek Marina on US 1 and Riberia Street along the east bank where a sewage line break occured yesterday afternoon.
Historic City News photographer Kerry McGuire was on the scene to observe City workers continuing to haul waste water by truck to available lift stations.
John Regan, chief operations officer for the city, reportedly said a contractor and dive teams will be at the site today to start repairing the break, however, as of 7:00 this morning, none were observed.
According to a quote that appeared in the local media, Regan said, "Samples of the water will also be tested by the Florida Department of Environmental Protection and the St. Johns County Health Department to determine whether it's safe for the public to go back in the water.
The scene at a Riberia Street lift station was busy with public works employees this morning where crews were busily transfering sewage via 3,000 gallon tank trucks from a lift station near Oyster Creek.
The city has not yet given estimates as to how much sewage spilled into the San Sebastian River at the Oyster Creek break, however, as soon as the source and volume of the accidental line breakage is determined, Historic City News will update this story.
Share your thoughts with our readers >>