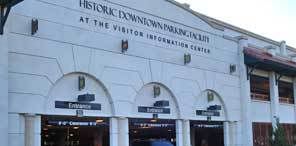 Seven years ago, 138,100 cars parked in our Visitor Information Center (VIC) parking lot according to the St. Augustine Report received by Historic City News this week.
Last year, 287,417 cars parked in our Historic Downtown Parking Facility (HDPF), more than twice that earlier number before work began on the facility.
"That's an average of 787 cars a day in our parking facility, and off our streets," VIC Manager Sharon Langford says, "and that's freeing up parking spaces in our downtown for residents and visitors on short trips to shop or dine."
While the parking facility is a financial success in covering operating expenses, City Comptroller Mark Litzinger's measure of success is the number of cars using it, and that number skyrocketed from 106,472 the year before it opened to 249,664 the first full year following. "The facility wasn't intended to be a revenue-producer," Litzinger says. "Like our police or fire stations, it's there primarily to serve the public. And it's doing its job."
Even in these tough economic times, HDPF usage is holding its own. The count is kept on a fiscal year basis, October through September. From October 2008 through last month, the count was 124,604; from October 2007-February 2008, it was 123,902.
Both Langford and Litzinger see all elements of our city's traffic management plan – governed by a citizen Parking and Traffic Committee and funded through a Community Redevelopment Agency – continuing to take hold. Along with increasing HDPF use, Litzinger said the number of ParkNow card holders has more than double since October. The credit card-styled ParkNow card provides parking at 50 cents an hour in all city meters and the HDPF.
Photo credit Historic City News photographer Kerry McGuire
Share your thoughts with our readers >>