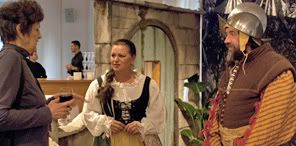 Communications Manager Barbara Golden reported to Historic City News that in early March, representatives from the Visitors and Convention Bureau presented an evening of interactive activities and exhibits to top producing New York based travel media.
More than 90 media representatives including editors, broadcast producers and freelance journalists representing some of the most popular travel and leisure websites, magazines and television programming in the world attended the event which took place at the Midtown Loft on 5th Avenue in Manhattan.
The event, themed "Discovering a NEW World of Florida Adventures", set an impressive stage for the Visitors and Convention Bureau to demonstrate the playful allure that blends Old and New World influences in a refreshing mixture of history, romance, luxury, youthful exuberance and Southern charm.
"This event was the ultimate outreach to introduce New York-based media to St. Augustine, Ponte Vedra & The Beaches as a vacation spot" said Glenn Hastings, Executive Director of the Visitors and Convention Bureau. "The media exposure and interest created by these types of events are one of the most cost effective and productive ways for us to promote our destination to the world. In fact, we were home just a few days when the first travel story resulting from the event appeared."
The travel editor from New York Daily News ran a story about St. Augustine in the Sunday Travel section on March 15th and a story about Spring Getaways to our beaches was posted by Emmy Award-winning news journalist, Karen Schaler on the very popular travel website, www.TravelTherapyTrips.com, a media value that exceeds $15,000.
VCB staff will continue to work with journalists and media representatives that were in attendance to get other stories and travel tips about our destination published.
The interactive displays and vignettes at the event were picturesque scenes that included a colonial Spanish garden, the Castillo de San Marcos, Flagler College, an art gallery of some of St. Augustine's most talented artists, maritime archeological artifacts from the St. Augustine Lighthouse's LAMP program, and a sample of the Bob Hope: Shanks for the Memories exhibit now on display at the World Golf Hall of Fame. There was even a main-stage that represented the destination's 42 miles of beaches – complete with sand sculptures of sun bathers and the Castillo.
In addition to VCB marketing staff, representatives from the county's tourism industry that participated in the New York event included: Jeffrey Edel, National Parks Service, portraying 18th century Spanish soldier; Michelle Reyna, City Gates Productions, portraying Minorcan settler Maria Pacetti; John Stavely, owner of LoveMyTours.com, portraying Henry Flagler; Melissa Stuart, City Gate Productions, portraying Mary Lily Flagler; Fernando Arango, tour guide and artist, portrayed Pedro Menendez de Aviles; Chuck Meide, Maritime Archeologist from St. Augustine Lighthouse, provided insight into the area's archeology programs; Elyse Brady, Executive Director of St. Augustine Art Association, presented a painting demonstration; Ken McAllister, PGA Golf Academy provided golf swing analysis; and Peyton Taylor, Communications Manager at World Golf Hall of Fame presented information about the World Golf Hall of Fame and IMAX Theater and the World Golf Village.
Let us know what you think >>