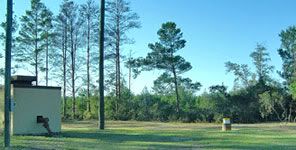 The City of St. Augustine reported to Historic City News that three new 1500 gallon per minute Upper Floridian aquifer wells, drilled to approximately 450' deep, are under construction.
In addition to more water available through the three new wells and a new source in the Upper Floridian Aquifer, the city will gain better treatment of its water through a reverse osmosis system.
Increased withdrawals from the surficial aquifer can contribute to adverse environmental impacts on wetlands adjacent to the existing wells. Therefore, the city proposed this proactive approach to long term water resource management by abandoning surficial wells and installing the three new deep wells.
Once the new deep wells are in operation, the city will continue to operate only one surficial well.
The City Commission recently approved $104,800 in Utility Fund reserves to prepare state permit applications.
The entire project will cost approximately $2,500,000 with the St. Johns River Water Management District contributing about 40% of the cost and the city the remaining 60% from General Revenue funds.
The City of St. Augustine began the project of drilling the new wells in spring 2009 and the project is expected to be completed before the end of November 2009.
Public Works Director Martha Graham said, "The plan will double the city's water supply, while replacing the older lime softening water treatment."
The treatment process is expected to increase the discharge of remaining concentrate, and the city is seeking approval from the state Department of Environmental Protection to discharge that concentrate safely into the San Sebastian River.
The project will increase the city's water supply to 6.5 million gallons a day. While the city's population is not increasing, the utility service area extends beyond the city limits, to areas likely to be developed in the future.
Let us know what you think >>