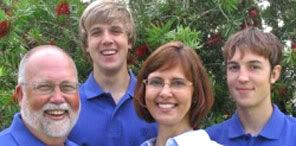 Historic City News has learned that St. Johns County Commission Chairman Cyndi Stevenson will be the next guest speaker before The Marketplace Christian Professionals group on Thursday, April 9, 2009.
The Marketplace's vision is to facilitate the empowering of men and women in the business community to realize and obtain their full potential as active participants in the Kingdom of God. The group meets the 2nd Thursday of every month at 12:00 noon for lunch at Carrabba's Italian Grill, located at 155 SR 312 West.
Stevenson lists her Personal Background on The Marketplace website:
Native Floridian, born in Volusia County, a northeast Florida resident since 1981. Married for more than 20 years to Henry, whose family settled in St. Augustine 30 years ago. Sons Paul and Wes attend the University of Florida.
Educational & Professional
Certified Public Accountant & Auditor
Graduate of Stetson University, 1981, BBA Accounting
Alumna of KPMG Peat Marwick, Jacksonville, 1981
Community Involvement
Bartram Trail Rotary
Switzerland Community Church
St. Johns County Chamber of Commerce
St. Johns County Economic Development Council
Past Community Service
St. Johns Vision Task Force, 2002
Graduate of Leadership St. Johns, 2005
Walk-a-Mile Program, 2006
Julington Creek Plantation Swim Team,
past Board Member & Treasurer
Julington Creek Plantation Women's Association,
charter Board Member and Treasurer
Switzerland Point Middle School,
past Board Member and PTSO Treasurer
Cub Scout Leader
Sunday School Teacher
Youth Soccer Coach
Library Volunteer
Boards & Committees 2008-2009
Historical Resources Review Board
LAMP Conservation Board
NW Comm.Tower Citizens Advisory Board
St. Johns River Alliance
Tourist Development Council (TDC)
North Florida TPO (Transportation Planning Organization)
Public Safety Council
Florida Association of Counties
Board of Directors, 2007
Certified County Commissioner Training, completed 2006
Advanced County Commissioner Training, completed 2008
Governor Charlie Crist Appointment
Legislative Committee on Intergovernmental Relations (LCIR), 2007
Let us know what you think >>