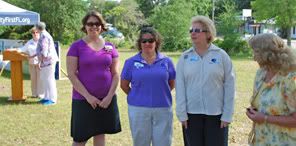 Begun by a principal and 3 teachers fifty years before, the St. Johns County Teachers Credit Union became part of Community First Credit Union in 2004 — and today they broke ground on their new St. Johns branch in the Winn Dixie Shopping Center on North Ponce de Leon Boulevard.
Built to meet LEED certification environmental standards, the new building will house a 3200 square foot, full service branch with three drive-up lanes, a drive-up ATM and an after hours depository. When the new branch opens on September 1, they will feature a Financial Resource Center for members, a children's play area and a self-service coin counter.
Historic City News interviewed Mary Cay Brock, branch manager of the St. Johns branch. Mrs. Brock has been excited about the new design ever since the plans were first made available. "The new branch will be a tremendous upgrade of services for our members."
This is the second free-standing LEED-designed branch for Community First Credit Union, and, according to Brock, will reflect the unique architecture and historic nature of the St. Augustine area.
The new branch will replace the two aging facilities currently in service in St. Augustine. The branch at SR 312 and US 1 will close July 31st at which time it will be consolidated into the Depot Plaza location.
When Mrs. Palthorpe first served as CEO of the Teacher's Credit Union in 1954, she operated out of a desk drawer in her office at the Orange Street School where she was employed as principal. By the late 1980's, the credit union moved into its current location on North Ponce de Leon Boulevard.
Today, Community First is one of the largest credit unions in the state; serving over 103,000 members with assets that exceed $1 billion.
Members of the Community First Credit Union of Florida Board of Directors, including John Hirabayashi, the architect Gresham, Smith and Partners, Inc., and the contractor Auld & White Constructors, Inc. were on hand for this mornings ceremonies.
Historic City News staff photo
Let us know what you think >>