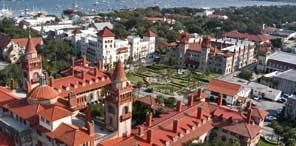 Carrie Pack, Assistant Director of Public Information & Assistant College Newspaper Adviser at Flagler College, has reported to Historic City News that the Flagler College spring Community Lecture Series, "Global Perspectives," will continue with Victor Ostrowidzki when he presents "One Man's Journey: WWII Occupied Poland to U.S. Political Journalism" on Tuesday, Feb. 17.
As a native of Poland, Ostrowidzki experienced the Soviet and German occupations of Poland. His father, a high-ranking Polish government official, was captured as a prisoner of war. When some of his relatives were deported to Siberia, Ostrowidzki was visiting an aunt. He later reunited with them in England. In 1950, he moved to the United States under a special act by Congress to bring 19,000 former Polish soldiers and their families to the States.
Ostrowidzki then began his journalism career, covering national politics from Washington. He also served as an interpreter during the Berlin and Cuba crises. In the early '60s, he enrolled at Siena College.
After he earned his master's from Siena, he began working for Hearst newspapers, where he worked until his retirement in 1997, covering the White House, Congress and national and international affairs. He now serves as director of the Flagler College Forum on Government and Public Policy and teaches political science classes.
The spring 2009 series will feature speakers who have unique perspectives on global issues. Upcoming speakers for spring include:
– March 17 – Peter Spiller, "The Last Mountain: Conquest of Juliana Top"
– April 14 – William Spencer, "Eyeless in Gaza: The First and Next 100 Years"
Tickets are $5 per person for a single lecture, or $15 for the series. Active military personnel may attend at no charge. Lectures begin at 10 a.m. in the Flagler Room at Flagler College, 74 King St. Reservations are required, but space is limited. The lecture will last approximately one hour and will be followed by a coffee and pastry reception.
Call (904) 819-6282 for reservations or more information.
Share your thoughts with our readers >>