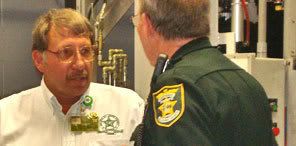 Kevin Kelshaw reported to Historic City News that a 25-year old Duval County man has been arrested early this morning in connection with three recent armed robberies in St. Johns County.
The Jacksonville Sheriff's Office is also looking at the subject in connection with a robbery in Duval County.
The suspect, identified as Daniel Nicholas Cosmo, 25, 12340 Toucan Dr., Jacksonville, was charged with three counts of armed robbery and was booked into the St. Johns County Jail.
Cosmo is charged with armed robberies that allegedly occurred early today at CVS Pharmacy at Daily's and at the Golden Ox Liquors Saturday evening. All of the robberies occurred in Fruit Cove.
The suspect entered CVS Pharmacy, 400 block of S.R. 13 North, shortly before 5:00 a.m. this morning and pointed a handgun at the 25-year old male clerk. The suspect demanded money and a carton of cigarettes. He then left the store with a small amount of cash in an unknown direction.
While deputies were investigating the robbery at the pharmacy, another robbery was reported at Daily's, in the 2600 block of Racetrack Rd., shortly after 5:00 a.m. A suspect matching the description of the first robbery, entered the store, brandished a handgun and demanded money and lottery tickets. The suspect fled on foot in an unknown direction with an undetermined amount of lottery tickets and a small amount of cash.
While deputies were investigating the two robberies, Deputy David Rosado spotted a vehicle traveling across the Julington Creek Bridge that matched the description given by the Jacksonville Sheriff's Office of a robbery suspect in Duval County.
A traffic stop was conducted and the suspect's clothing description matched that of the two robberies.
Cosmo was brought in for questioning by Robbery/Homicide Detectives and admitted to those two robberies as well as the one from Saturday night.
On Saturday, the 31-year old female clerk stated that the suspect came into Golden Ox Liquors, 400 block of S.R. 13 North shortly after 9:00 p.m., displayed a handgun, and demanded all of the money from the cash register. An undisclosed amount of cash was given to the suspect who then fled in an unknown direction.
JSO Detectives have also responded and are looking at the suspect of a robbery that occurred in Duval County as the investigation continues.
Share your thoughts with our readers >>