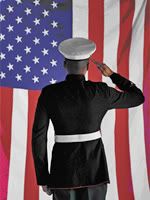 St. Johns County Board of County Commissioners reported to Historic City News that all county offices and all St. Johns County Public Libraries will be closed on Wednesday, November 11, 2009, in observance of Veterans Day.
The Uniform Holiday Bill was signed on June 28, 1968, and was intended to ensure three-day weekends for Federal employees by celebrating four national holidays on Mondays: Washington's Birthday, Memorial Day, Veterans Day, and Columbus Day. It was thought that these extended weekends would encourage travel, recreational and cultural activities and stimulate greater industrial and commercial production.
Beginning in 1978, Veterans Day has been observed on November 11, regardless of what day of the week on which it falls.
The restoration of the observance of Veterans Day to November 11 not only preserves the historical significance of the date, but helps focus attention on the important purpose of Veterans Day: A celebration to honor America's veterans for their patriotism, love of country, and willingness to serve and sacrifice for the common good.
Normal hours at all locations will resume on Thursday, November 12.
All garbage, yard debris and recycling in St. Johns County will be collected on its normal weekly schedule.
Let us know what you think >>