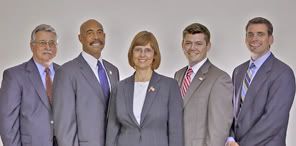 As expected, Historic City News watched as the St. Johns County Commission acknowledged the proposed fiscal year 2010 millage rates presented by Director of Management and Budget Doug Timms.
The Truth in Millage Act (TRIM) requires the county to follow a precise process in the establishment of its annual budget. A recommended budget was prepared and presented to the Board of County Commissioners on July 7, 2009.
Also approved was the proposed date of the first public hearing for budget adoption which will be Tuesday, September 15, at 5:30 p.m. in the County Auditorium.
For practical purposes, once the tentative millage rates are set, they can still be decreased – but not increased.
The aggregate (average) millage rate for fiscal 2009 was 6.0320; staff is recommending 6.7653 for fiscal year 2010 – the maximum millage proposed is 7.5134 mills.
Citizens groups are already organizing to protest the proposed budget and millage according to information received by Historic City News.
One Julington Creek resident reported that the county office told them in March that their taxes "would be decreasing as the value of homes had dropped so drastically".
After hearing the news about the action taken by the county commission at today's meeting, she said "They don't wish to reign in their spending in these difficult economic times."
One local organization, United American Tea Party, reported that some members are planning to walk a "notice" to their entire neighborhood. "These grass-roots-level activities are getting attention. It's time to take back our neighborhoods, as well as our County and our Country", they said.
Let us know what you think >>