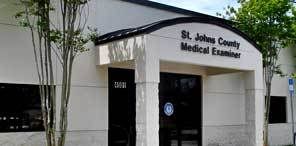 Kevin Kelshaw reported to Historic City News this afternoon that the elderly St. Johns County couple who were found dead in their Treasure Beach home Sunday morning, apparently died of natural causes.
Pending the results of the toxicology tests still under analysis, preliminary autopsies by the District Medical Examiner's Office revealed that each victim suffered a heart attack.
The victims were identified as Donald Hankey, 80, and Patricia Hankey, 77.
Deputies responded to the Hankey residence in the 200 block of Puebla Road Sunday; shortly before 11:00 a.m.
Neighbors noticed and reported a foul odor coming from the home.
The two were found on the floor of the living room. Foul play is not suspected.
Let us know what you think >>