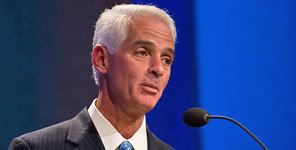 Governor Charlie Crist announced to Historic City News today that he will convene select state agencies charged with reviewing legal requirements for screening individuals to work in facilities that provide care to children, the elderly and persons with disabilities.
A South Florida Sun-Sentinel article exposed deficiencies in the current process used in social service agencies.
Currently, certain employees of child day care centers, nursing homes, assisted living facilities and other residential care settings must pass a criminal background check as a hiring requirement.
Upon learning of the news report, Governor Crist ordered a complete review of current background-screening policies.
"I want to thank the members of the media – and especially the South Florida Sun-Sentinel – for examining the current practice of background screening to ensure the safety of our most vulnerable individuals" said Governor Crist.
At the Governor's direction, Deputy Chief of Staff Dave Foy first met with agency representatives on August 21 to begin gathering information, which has continued during the past two months.
The following state agencies will participate:
• Agency for Health Care Administration
• Agency for Persons with Disabilities
• Florida Department of Children and Families
• Florida Department of Education
• Florida Department of Elder Affairs
• Florida Department of Health
• Florida Department of Juvenile Justice
• Florida Department of Law Enforcement
The agencies will review the use of criminal background checks, the process for granting exemptions, and the process that allows employees to begin working before background checks are completed.
The group's findings will be presented to Governor Crist to improve the safety of Florida's children and vulnerable adults by using available technology to streamline procedures and revisiting the process of granting exemptions.
"When it comes to the safety and security of Florida's vulnerable populations, we must make every effort to ensure that their professional caregivers do not have criminal histories," Governor Crist said.
The agencies will meet for the first time Thursday at 4:00 p.m. in the Governor's Large Conference Room.
The group's findings will be presented to the Governor by November 2, 2009.
Let us know what you think >>