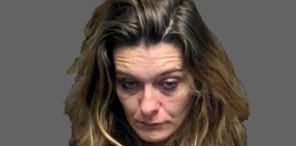 Sgt. Chuck Mulligan reported to Historic City News that Deputy Thomas Coward was dispatched to a residence on Indian Bend Road yesterday concerning a stabbing incident that would send one local woman to jail.
57 year-old Arlene Macallister reported to the Sheriff's Office that her 35 year-old daughter who lives nearby in the same apartment complex, came into her home and attacked her; choking her and battering her face and upper body.
According to the incident report filed, Arlene Macallister confronted her daughter, Cindy Macallister, over an alleged theft from the prior evening.
A fight reportedly ensued that started in the living room near the front door and ended in the bedroom — where Arlene Macallister armed herself with a knife which she claims she used to defend herself and to scare her daughter away.
Arlene Macallister was able to get to her cell phone and call 9-1-1 for help.
Although Cindy Macallister told officers who responded to the scene that she never touched her mother; evidence including a broken window and the "complete disarray" of the residence living room together with the mother's swollen, puffy face, scratches on her arms and redness around her throat, convinced officers otherwise.
Cindy Macallister was transported and booked into the county jail on charges of battery by strangulation – a third degree felony in domestic violence cases.
Share your thoughts with our readers >>