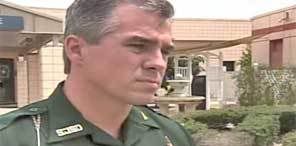 The St. Johns County Sheriff's Office became involved in a deputy engaged shooting early Saturday morning, which resulted in the death of a suspect according to a news alert received by Historic City News today.
The subject, whose identity has not yet been confirmed at this time, is believed to be connected with the death a woman in Mississippi.
The incident began when a Sergeant was contacted by The U.S. Marshals Service regarding a Mississippi tag (DB D7702, 2008 Silver Toyota Yaris) he had run several days ago.
The Sergeant was off duty at the time of the call and was informed that the tag was associated with a fugitive involved in a homicide (Rodney Joseph Lasseigne, W/M, 07/25/1956), who was featured on "America's Most Wanted" TV show.
The registration however, was not entered into the computer by Mississippi authorities in a manner that did not reveal the fugitive status.
The Sergeant notified our communication center that the vehicle in question had been seen in our county and placed a "look out" for the car.
Around 5:00 a.m. deputies responding to a stolen semi truck call in the area of I-95 and SR 206, observed the car described to them. As deputies approached the vehicle, they observed what appeared to be a person covered with a blanket.
Upon announcing their presence to the subject, he removed the blanket and pointed a semi-automatic "sawed-off" shotgun towards the deputies who simultaneously fired on the subject.
The suspect was pronounced dead at the scene.
The Florida Department of Law Enforcement is investigating the incident, and the deputies placed on administrative leave which is standard protocol.
The names of the deputies are being withheld until they can be debriefed and inform their families of this morning's incident.
Share your thoughts with our readers >>