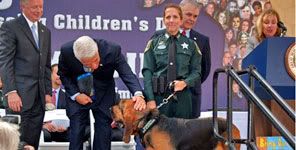 St. Johns County Deputy Melanie Russell was honored along with her K-9 "Kahlua" last week during the Annual Florida Missing Children's Day Ceremony in Tallahassee according to an announcement received by Historic City News today.
Russell and Kahlua were honored as the 2009 Trailing Team of the Year and were presented the award by Governor Charlie Crist.
The annual event is an opportunity to remember the state's past and present missing children, as well as recognize the state's efforts in the child protection arena.
The ceremony featured awards to citizens, canine trailing teams, and law enforcement officers from throughout the state for their exemplary efforts in missing children investigations.
Russell and Kahlua were recognized for their efforts from an incident that occurred on August 11, 2008. A 17-year old male, who was visiting his grandparents, was reported missing in a heavily wooded area behind their home. He had been lost in the woods for nearly six hours before the Sheriff's Office was contacted.
At 7:00 p.m. Kahlua and Deputy Russell began tracking the juvenile into the woods and continued in knee deep water in the swampy area. At 8:14 p.m., Deputy Russell had fallen during the search and sustained an injury, however, her K-9 marched on through the mud and swamp water; pinpointing the juvenile's location.
It took bulldozers and chainsaws to cut out a track for deputies and the juvenile who was located safely.
The juvenile was reunited with his grandparents without any injury. Deputy Russell was transported to Flagler Hospital where she was treated for her injuries and released.
Pictured from left: Lt. Governor Jeff Kottkamp, Gov Charlie Crist petting Kahlua, Dep Melanie Russell, FDLE Commissioner Gerald Bailey, and FDLE Information Program Director Donna Uzzell.
Let us know what you think >>