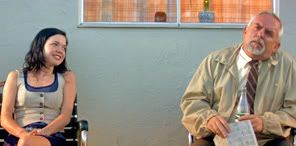 The Village Barbershop is the story of a man who's lost his way, and a woman trying to find hers. Two unlikely people, who meet in one unlikely place.
Art Leroldi is a widowed, die-hard Playboy reading, fifty-five year old curmudgeon of a barber.
When he loses his friend and business partner of twenty years, to keep his shop open hes forced to hire the last person on earth he'd want working in his man's man barbershop – a woman.
More specifically, Gloria MacIntyre, a broke, twenty-something, spit-fire Irish/Italian girl who's just found out not only is she pregnant, but the baby's father is her cheating trucker boyfriend.
This event benefits the St. Johns Cultural Council and is scheduled for Monday, April 27th – doors open and buffet dinner starts at 6:00 p.m. movie begins at 7:00 p.m.
The menu includes Chicken Florentine, Tortellini ai Quattro Formaggio, Meatball & Sausage Alla Pizzaiola, Mash Potato Casserole with Gouda Cheese, Salad with Gypsy Dressing, Vegetable du Jour, Assorted Desserts and Coffee. A full bar will be available.
For reservations call 904-824-8244.
Let us know what you think >>