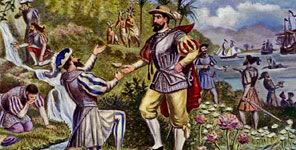 Leslee F. Keys, Director of Corporate, Foundation, and Government Relations, reported to Historic City News that Flagler College, the St. Augustine 450th Commemoration Commission and other partners were fortunate to receive funding under a Florida Humanities Council Grant.
Funds awarded under the NEH grant through the Florida Humanities Council will be used to produce an academic program series entitled "Discover First America; Legacies of La Florida" celebrating the Quincentennial of Ponce de Leon's Landing in Florida.
November 5, 2009
Peoples Before Ponce de Leon
Seminole Tribe of Florida
Mr. Willie Johns, Brighton Reservation – Okeechobee
Mr. Herbie Jim and traditional arts demonstrators, Tampa
November 23, 2009
First America; Colonial St. Augustine
Mr. Chaz Mena, Chatauqua performance as "Pedro Menendez"
Dr. Kathleen Deagan, Distinguished Research Curator, UF
Mr. Carl Halbirt, Archaeologist, City of St. Augustine
December 9, 2009
Pirates! Fact & Fiction
Dr. Pat Croce, Pirate Soul Museum creator, author and entrepreneur
Mr. Brendan Burke, Lighthouse Archaeological Maritime Program
January 7, 2010
The British are Coming!
Mr. Bill Barker as Thomas Jefferson (presented through Colonial Williamsburg Foundation)
Mr. John Stavely as Jesse Fish, British Night Watch
February 5, 2010
The Great Southern Cracker Roadshow
Ms. Janis Owens, author and storyteller
Mr. Dana Ste.Claire, Director, 450th Commemoration Celebration Bluegrass Musicians
April 13, 2010
Palaces in Paradise: Flagler's Age of Opulence
Dr. Tom Graham, Professor Emeritus of History, Flagler College
Mr. John Blades, Executive Director, Flagler Museum
A Conversation with Henry Flagler:
Mr. Tom Rahner as Mr. Flagler and Mayor Joseph Boles, Jr., as himself!
May 18, 2010
Road to Freedom; African-Americans in Florida
Mr. Derek Hankerson, Actor and Creative Director
Mr. James Bullock, Actor and Creative Director
Let us know what you think >>