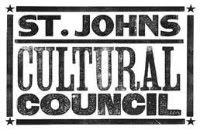 The St. Johns Cultural Council told Historic City News this week that they are inviting artists to submit work for their upcoming Dog Days of Summer 2009 exhibit.
Webster's dictionary defines "dog days" as:
1. the period between early July and early September when the hot sultry weather of summer usually occurs in the northern hemisphere
2. a period of stagnation or inactivity.
The term dates to ancient times when astronomers studied the stars and drew images of various formations, including dogs. Sirius, the brightest star in the night sky, became known as the "dog star". In summer, Sirius rises and sets with the sun and aligns with the sun in late July. The time from 20 days before to 20 days after the alignment became known as the "dog days" and occurs roughly between July 3 and August 11.
The Cultural Council is looking for artists' interpretations of the term, Dog Days of Summer.
Artists may enter up to two pieces of original artwork, (2D, 3D, or mixed media) with a $5 entry fee per piece. This is a non-juried show, open to all St. Johns Cultural Council members over 18 years of age. All artwork must be framed with hanging wire ready for mounting.
Pre-registration forms may be obtained at the SJCC Art Advocate Gallery and returned by August 21, 2009. The artwork will be received at the gallery on a date and time to be announced. All work must be pre-registered.
Dog Days of Summer 2009 will open at the Art Advocate Gallery on Saturday, August 29 during Uptown Saturday Night. An evening reception with the artists will be held from 5:00 to 9:00p.m. The public is invited to view the artwork and meet the artists.
The Dog Days exhibit will run from August 29 through September 18, 2009. The SJCC Art Advocate Gallery is located at 76B San Marco Ave. in St. Augustine. For more information, please call 904-826-4116.
Let us know what you think >>