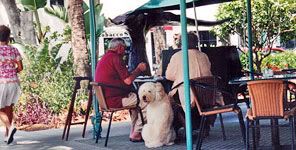 Your dog can dine out with you in St. Augustine Beach at restaurants getting a $25 permit under an ordinance approved by Beach commissioners recently according to information received by Historic City News.
For the past year, Rover could join you at St. Augustine restaurants with a $200 permit. The city's one-year "test run," which expired July 1, had just two takers – Harry's Seafood Grill and Crab Grabbers.
After pushing for the city's doggy dining ordinance, some restaurateurs complained the fee was too steep. City Attorney Ron Brown said the high fee was necessary to cover expenses of permitting and enforcement.
It will be up to the City Commission to decide the future of doggy dining here, in a city selected by www.dogfriendly.com as one of the most dog-friendly communities in Florida.
Share your thoughts with our readers >>