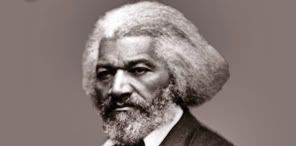 Members of the St. Augustine City Commission will hold a brief ceremony this Saturday, June 20, to dedicate a marker commemorating the visit to St. Augustine by Frederick Douglass in 1889.
The ceremony, to be held at the marker located on St. George St. just north of Treasury St., will start at 9:30am.
Douglass spoke to the residents of St. Augustine on Sunday, April 7, 1889 in the Genovar Opera House which was located in that vicinity. During Saturday's dedication, Gerald Eubanks, a well know local actor and lifelong resident of St. Augustine, will portray Douglass and offer a few remarks in that role as part of Saturday's ceremony.
Born into slavery in 1818, Douglass rose in the pre-Civil War years to become a leader in the abolitionist cause and in the late nineteenth century a tireless advocate for the African-American community and civil liberties. Douglass played a vital role in persuading President Lincoln to issue the Emancipation Proclamation in 1863.
Douglass' visit to St. Augustine included a reception attended by an estimated 700 people, which the Florida Times-Union described as "including prominent people of both races." St. Augustine's mayor welcomed Douglass on behalf of the Governor of Florida after which Douglass spoke about the continuing struggle of African Americans to achieve civil rights in the post-Emancipation Era.
The marker is the seventh in a series of city produced historical informational markers. The others are located at: the Plaza de la Constitución; City Hall, formerly the Alcazar Hotel; Twine Park, recognizing the contributions of Henry and Kat Twine; on St. George St. near the Arrivas House, commemorating the city's Minorcan heritage; at the Visitor Information Center describing the Caños de San Francisco, or Fountains of San Francisco; and on Tremerton St. noting the location of the 18th century mission community of Nuestra Senora de Rosario de la Punta
Share your thoughts with our readers >>