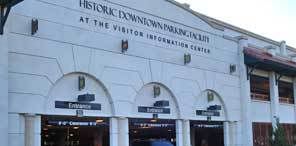 Yesterday the City of St. Augustine reported to Historic City News that it was three years ago to the day that the City of St. Augustine opened the gates and welcomed the very first vehicles into the Historic Downtown Parking Facility.
Located adjacent to the St. Augustine & St. Johns County Visitor Information Center, the facility was expected to fill a need for both visitors and residents alike, and by every account, the facility has filled those expectations.
Since that first car rolled through those three years ago, 822,158 vehicles have parked in the facility. That is an average monthly usage of 22,838 vehicles, or an average daily usage of 751 cars, or 65% of capacity each day, year round.
The last full year of service by the service parking lot that preceded the parking facility was 2004. That year the parking lot served 126,000 vehicles. In 2008 the parking facility served well over twice that number reaching 287,417 vehicles.
There are days when the facility operates at capacity and others when it does not. Over the last three years, the lowest monthly use was just as visitors and residents were learning of the facility in August 2006. That month 10,205 vehicles parked in the facility, but just two months later the total use was twice that number.
Spring months, particularly March and April, tend to be the time of the highest use. For the last two years, those two months have accounted for about one-fourth of the annual totals with the single busiest month being March 2008 when the facility hosted 37,438 vehicles.
The Historic Downtown Parking Facility fills a need and a growing number of new and returning visitors—as well as residents—are embracing the ease of using the facility.
For more information about the facility, including a map to its location, visit www.vicparking.com.
Let us know what you think >>