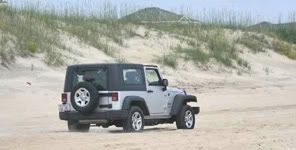 Fort Matanzas Superintendent Gordie Wilson reported to Historic City News that effective January 1, 2010, driving on the beach at Fort Matanzas National Monument will no longer be allowed.
Wilson said, "We understand this announcement will be disappointing to many people in the community who are used to being able to drive on the beach."
According to Wilson, this change is in keeping with Executive Order 11644, as amended, and National Park Service regulations. These Federal requirements do not permit vehicles to travel outside designated roads or parking lots in a National Monument.
"Although the park has permitted beach driving since this property was donated to the NPS in the 1960s, Executive Order 11644 and associated regulations later restricted our authority to do so," Wilson said.
Executive Order 11644, issued by President Nixon on February 8, 1972 directly governs the use of off-road vehicles, including vehicles driven on beaches, in units of the National Park System.
This Executive Order and the National Park Service regulations established under it, prohibit the use of off-road vehicles in National Park System units, except those areas specifically designated for such use in national recreation areas, national seashores, national lakeshores, and national preserves.
Fort Matanzas, a National Monument, does not fall into one of those categories.
"In the past, we have closed environmentally sensitive areas to driving on a seasonal basis to fulfill our resource protection obligations," Wilson said. "After consulting with legal counsel and many stakeholders about this important issue we determined that, to be in conformance with the law, we can no longer permit driving on the beach. The Fort Matanzas ramp, however, will remain open, since it is a designated road.
The National Park Service was given a dual mission by Congress when the agency was established in 1916; to conserve resources and to provide for enjoyment of those resources by such manner and by such means as will leave them unimpaired for the enjoyment of future generations. National Park Service management decisions seek to balance use and preservation.
Photo credit: © 2009 Historic City News photographer Kerry McGuire
Let us know what you think >>