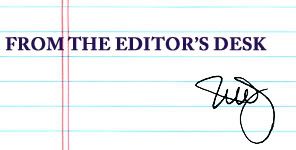 In a clipping featured in this morning's report received by Historic City News from the Florida Association of Counties, I read about a grand jury recommendation that is unsettling, to say the least.
At issue is an opinion piece that appeared in The South Florida Sun-Sentinel; reporting that a Palm Beach County grand jury was suggesting that Florida's famed and effective Government in the Sunshine Law should be "watered down".
What is particularly surprising to me is that the grand jury report was aimed at weeding out corruption.
With last weeks turn of events in the trial of former County Commissioner Tom Manuel, public corruption in is the forefront of public discussion.
According to the Sun-Sentinel, "in Palm Beach County, the unexpected often rules the day." That must be true because the last place I would expect to find recommendations to water down our Government in the Sunshine Law is in a grand jury report.
I agree with many of the grand jury recommendations that were reported, namely the suggestion that the Palm Beach County Commission create an Office of Inspector General similar to Miami-Dade's in order to heighten the oversight and accountability of elected officials.
Although the Manuel trial is fresh in our memories, five elected officials have been sent to prison on federal corruption charges over the last few years in Palm Beach County; colorfully referred to as "Corruption County."
If for no other reason, that is enough reason for me to believe that the grand jury in Palm Beach County has no business advising the state to make a change that would reduce transparency for public officials across Florida.
Basically, the grand jury recommended that the state Legislature exempt citizen boards and possibly other boards and commissions "with no decision-making power" from requirements that members not discuss public business outside public meetings.
This should cause concern for any Floridian who wants to make sure the political process remains open to public scrutiny and input; it does for me.
The idea is that the restrictions of the Sunshine Law can squelch or limit discussions that may actually benefit public policy have been argued over the years by public officials. They don't wash because these citizen boards and committees often prove effective in influencing policymakers' decisions.
Allowing board members and committeemen to discuss public policy outside the public eye could easily mean concealing the true motivations, beneficiaries or calculations behind a particular issue, in my opinion.
I want to put the shame of the Tom Manuel era behind us and move forward. Florida's Sunshine Law is one tool that helps us to accomplish that. If anything, it should be strengthened, not diminished.
Let us know what you think >>