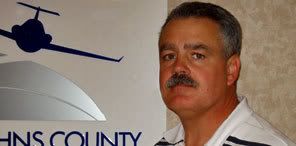 Yesterday evening the St. Augustine Airport Authority took steps to adopt what will likely be its last budget dependent on local ad valorem tax revenues according to an interview given to Historic City News today.
By adopting a not-to-exceed millage for the upcoming 2009-10 fiscal year of .1697 mils, a figure that will likely be lowered during September's budget public hearings, the Authority took the final steps toward reaching the goal of self-sufficiency.
The approximately $13.7 million dollar proposed budget allocates most of anticipated ad valorem proceeds to bolstering operating and capital reserves. The airport's reserves will also serve as an additional hedge against further economic downturns in the nation's economy.
State and federal aviation fuel and airline ticket taxes collected and reserved for airport related projects in Florida and across the nation have been programmed into the preliminary budget to continue preservation and enhancement projects at the St. Augustine Airport.
Each year the Aviation Trust Funds are distributed to airports around the country for needed preservation, safety and capacity projects. "The money is going to get distributed to qualifying airport projects, our goal is to be sure that the citizens of St. Johns County get an appropriate share of these important dollars" says Airport Authority Executive Director, Ed Wuellner.
The Airport Authority has programmed nearly $5 million in matching grants from the Florida Department of Transportation and the Federal Aviation Administration to be matched with about $1.7 million of local dollars for necessary capital development and revenue producing projects next year. "It only makes sense for St. Johns County residents to expect contributed aviation tax dollars be returned and spent in our own community," Wuellner continued.
In 2004, The Airport Authority committed to the goal of getting the airport off of ad valorem taxes and developed a monitoring tool to accomplish that goal. Since that time, the Authority has been fully engaged in tracking the progress of developing a diversified revenue base that includes contributions from hangars, fuel, rental cars, parking and other on-airport generated sources.
For the last 4 years, nearly all of the ad valorem taxes collected by the Airport Authority have been used exclusively to match State and Federal Grant resources aimed squarely at enhancing safety, marketability, and self sustenance.
The Authority's commitment and investment into revenue producing assets is now yielding consistent long-term streams of revenue. "The development of sustainable revenue sources has been a critical path item for more than a decade now" say Wuellner. "We have been able to expand the on-airport revenue flow more than ten-fold over the last 8-10 years", he continued.
"It has required a continued dedication and focus on that goal by all Members serving on the Airport Authority in past decade or so," said Kelly Barrera, current Airport Authority Chairman. "Each year we have been able to monitor the progress of past years and renew our commitment to the goal of getting off of the tax rolls. Attaining this difficult goal speaks well of all of the citizens of St. Johns County who have served on the Authority" continued Barrera.
But in the end and barring some large scale event, the Citizens of St. Johns County are the real beneficiaries of the Authority's fiscal dedication. According to Chairman Barrera, "The Authority has always been keenly aware of the fiscal prudence required to accomplish a goal of this size. The public has been patient with us in meeting our goals."
Currently, the Authority's ad valorem impacts average less than 1% of the average St. Johns County Citizens' tax bill. Regardless, of its magnitude, the elimination of airport assessed ad valorem taxes from local tax bills next year is welcome news, especially in current economic conditions.
Photo credit: Historic City News staff photograph
Let us know what you think >>