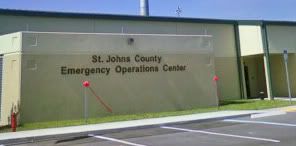 The St. Johns County Board of County Commissioners and Division of Emergency Management invite the public to the Dedication Ceremony and Grand Opening of the new St. Johns County Emergency Operations Center (EOC), scheduled for Wednesday, April 29 at 10:00 am.
The outdoor Dedication Ceremony will include remarks by St. Johns County Commission Chair Cyndi Stevenson, as well as County Administrator Michael Wanchick and Emergency Management Director Ray Ashton.
Following the dedication and ribbon cutting, keynote speakers inside will include General Douglas Burnett of the Florida National Guard and Dr. Forrest Masters from the University of Florida.
Dr. Masters has done extensive research on natural disasters and has deployed for 23 storm events, including the major hurricanes of 2004, 2005 and 2008. He frequently appears on national media outlets such as CNN, NPR, PBS and the Discovery Channel.
The new 22,000 square-foot Emergency Operations Center is located on seven acres at 100 EOC Drive, behind the St. Johns County Agricultural Center on land generously donated by the Anastasia Mosquito Control District.
The new operations center is necessary because the County has outgrown the old facility, which is also located in a flood-prone storm surge zone.
"Continuity of government is the most vital aspect necessary for preparedness, response and recovery from a natural or man-made disaster," said Ray Ashton, St. Johns County Director of Emergency Management. "This facility is designed to allow all government agencies to continue to function and provide response and recovery efforts to our citizens."
The EOC cost a total of $6 million, with $1.16 million funded through state grant dollars and an additional half million through federal grant dollars. It is designed to withstand even the most severe storms to keep emergency response to the community fully functioning. The walls have no windows and are more than nine inches thick, with the ability to withstand winds of 200 miles per hour.
Additionally, the front door weighs 500 pounds and has shatter-proof glass, and all four outer doors are equipped with roll-down shutters, able to resist a 220-mile per hour wind load.
The facility also includes a 500 kilo-watt back-up diesel generator with enough fuel to power response operations for four days.
The facility, located outside of any storm surge zone, includes a main operations room, bunk rooms, bathrooms and showers, infirmary, media room, HAM radio operations room, kitchen, dining area, staff offices and two conference rooms.
In addition to providing an emergency headquarters, the facility is also used throughout the year for hundreds of training meetings for local, regional and state partnering agencies.
To be as efficient as possible, much of the furniture and equipment was transferred from the previous EOC, which will now be used as additional office space for the Sheriff's Office.
Contributed photograph courtesy of Merrill P. Roland
Let us know what you think >>