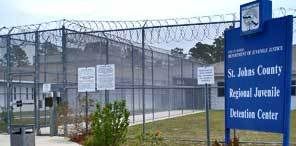 Just before 11:00 yesterday morning, Historic City News learned that 18-year old David Ray Collins of Mascotte, FL had been injured while attempting to escape from custody at the St. Johns County Juvenile Detention Center.
According to DJJ Officer Vanessa Burns, about 15 inmates were in the recreation area outside of C-pod Saturday morning; including Collins. Officer Burns said she went inside to open the laundry room for two of the other inmates then heard the remaining inmates in the yard yelling that someone was escaping.
Burns said that as she ran to the door, she notified the rest of the center via radio that there was an escape attempt in progress. Burns said by the time she got back outside D-pod, Collins made his way to the roof, he ran down the chain link enclosure that covers the main entrance sidewalk then jumped off at a height of approximately 12 ft.
Collins broke his left leg and possibly his right ankle, according to the Sheriff's Office incident report. Fire Rescue transported Collins to Flagler Hospital for tratment.
Officer Burns informed Deputy Gerald Thompson that Collins was being held for grand theft of an automobile. Collins, who is required to wear a orange shirt for identification, was considered a high risk due to his behavior; fighting and "causing trouble" while in the detention center.
Deputy Thompson reported that Collins somehow loosened one of the sections of the chain link fence enough to crawl through the opening. It is still unknown how or where Collins gained access to the roof.
Collins did make it out of the secured area of the Detention Center so he has been charged with Escape in violation of F.S. 944.40.; a Second Degree felony.
Photo credit: © 2009 Historic City News photographer Kerry McGuire
Let us know what you think >>