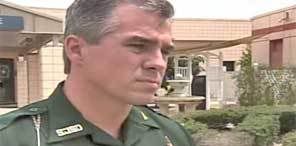 Sgt. Chuck Mulligan with the St. Johns County Sheriff's Office reported to Historic City News that on Tuesday and Wednesday the Youth Services Unit conducted an alcohol compliance detail operating under the Investigative Aide Program.
This two day operation took place in the Central, North West and the South Beach areas of St. Johns County.
The operation consisted of a nineteen year-old and a seventeen year-old who attempted to purchase alcohol at various businesses.
Clerks at 12 of the 29 locations visited either sold or served alcohol to the underage aides. Further, of those clerks who asked for identification, an actual Florida Identification Card (DL) was presented with the aide's actual date of birth.
Those who served or sold to the underage operatives included clerks or servers from the following establishments: Arnold's Bar, 3912 N. Ponce De Leon Blvd.; Giggilin Gator, 121 King Street; Lil Champ Store, 123 King Street; M&M Market, 102 King Street; Nobby's, 10 Anastasia Blvd.; AIA Discount Beverage, 855 Anastasia Blvd.; Panama Hatties, 361 AIA Beach Blvd.; Holiday Inn Hotel Bar, 860 AIA Beach Blvd.; Kangaroo, 224 San Marco; South Legacy Bar WGV, 500 S. Legacy Trail; Comfort Suites Lounge WGV, 475 Commerce Lake Drive and Donovan's Irish Pub, 7440 US I North.
Charges of selling, serving, or giving alcohol to a person under the age of 21 were signed against the 12 clerks, who face a second degree misdemeanor charge.
The remaining establishments visited who were in compliance by denying sales were: Kangaroo, Anastasia Blvd; Winn Dixie, SR 312 &AIA; Oasis Restaurant, AIA South, Anastasia Billiards, AIA South; Kangaroo Anastasia Blvd.; Golden Ox Liquor, SR 13; Kangaroo SR13; Beef O' Brady's, SR13; Buddy Boys, CR 13; Hess Station, SR 13; Caddy Shack Restaurant, WGV; Food Lion Palencia; Lil Champ, US I North; R&R Beverage, SR 16; Caps Seafood, Myrtle Street; BP Gas Station on Coastal Highway; R&S Beverage, Sartillo Road.
Share your thoughts with our readers >>