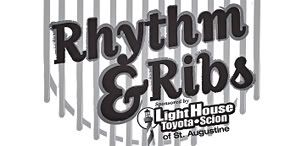 The City of St. Augustine reported to Historic City News that this weekend's events will necessitate minor interruptions in traffic.
Palm Sunday Weekend is traditionally one of the busiest weekends in St. Augustine both from the influx of visitors and the heavy event schedule some of which will necessitate minor traffic interruptions that drivers will want to take into consideration. Those not attending the events may want to avoid the affected areas.
Rhythm & Ribs Festival @ Francis Field
Friday, Saturday & Sunday, April 3-5
The Rhythm & Ribs Festival hosted by the Sunrise Rotary Club will be held at Francis Field on Castillo Drive on Friday, Saturday, and Sunday. The popular event will draw thousands of attendees and traffic in the vicinity will be congested, so drivers are urged to exercise caution.
For more information about the festival visit www.rhythmandribs.net or call 904.540.1786.
Blessing of the Fleet
Sunday, April 5 @ 12:30pm
The traditional Palm Sunday Blessing of the Fleet Ceremony will begin with a procession from the Cathedral-Basilica to the St. Augustine Municipal Marina. The procession will depart the Cathedral immediately following Mass at approximately 12:30pm and continue east on Cathedral Place south on Avenida Menendez to the Municipal Marina.
Vehicular traffic on Cathedral Place. and Avenida Menendez will be briefly halted as the procession makes its way to the marina.
The Blessing of the Fleet is produced by the St. Augustine Yacht Club. For more information visit www.sayc2000.com or call 904.824.9725.
Looking ahead to Easter
The St. Augustine Easter Parade scheduled for Sunday, April 12 at 3:00pm, will necessitate road closures and traffic detours.
Parade route
Start at the Mission Nombre de Dios
South on San Marco Ave., S. Castillo Dr. and Avenida Menendez
West on Cathedral Pl.;
North on Cordova St. to end at Visitors Information Center
Detour route starting at approximately 2:00pm
King St. will be two-way
Eastbound on King St. will turn south on Avenida Menendez or cross Bridge of Lions
Westbound across the Bridge of Lions will proceed westbound on King Street
Northbound on Avenida Menendez will turn west on King St.
Southbound on San Marco Ave. will turn west on San Carlos to U. S. 1.
Congested areas
Traffic along San Marco Ave. south of May St. will be very congested after 1:30pm
Public is advised to avoid the area unless involved with the parade.
Historic Downtown Parking Facility and the St. Augustine & St. Johns County Visitors Information Center
The Historic Downtown Parking Facility provides the easiest and most available parking in the downtown area. On Saturday and Sunday, April 4-5, and on Easter, Sunday April 12, the facility will charge a flat, all-day fee, payable on entry, to facilitate the heavy volume of traffic on exit. The flat all-day rate will be $7.00.
Visit www.vicparking.com for a map to the facility.
Share your thoughts with our readers >>