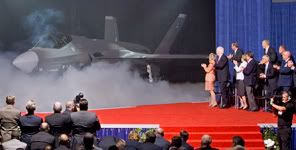 Historic City News received a statement from Governor Charlie Crist today regarding the selection of the Jacksonville Air National Guard as the potential bed-down site of the Air Force's newest fighter plane.
Crist, who serves as Commander-in-Chief of the Florida National Guard, said that he was proud of the selection of Florida's 125th Fighter Wing in Jacksonville as the potential bed-down site of the F-35 Joint Strike Fighter.
"This is a very proud moment for our state and testimony to the outstanding performance of our fine Air Guardsmen who currently support and fly the F-15 Eagle", Crist said in his statement.
Although the Chief of Staff of the United States Air Force has made his recommendation, the final selection depends on process completion, environmental assessments and a final decision by the Secretary of the Air Force.
As to the future benefits for our area, Crist said, "We look forward to the potential economic impact this could have on the city and people of Jacksonville."
Let us know what you think >>