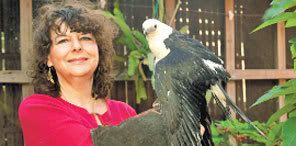 The public is invited to two upcoming events at the Southeast Branch Library located at 6670 US 1 South in St. Augustine according to an announcement received by Historic City News this afternoon.
First, the community is invited to the Southeast Branch Library on Thursday, February 5, at 6:30 pm to celebrate National Animal Week. Melanie Cain-Stage of the Humane Association of Wildlife Care and Education (HAWKE) will be presenting an educational "Birds of Prey" program. Florida Power and Light is sponsoring the program, which is free to the public and includes owls, a red-tailed hawk, turtles, a swallow-tailed kite named Angel and even a flying squirrel.
HAWKE is a not-for-profit organization licensed by the State of Florida Fish and Wildlife Conservation Commission and the United States Fish and Wildlife Service to rehabilitate injured and orphaned wild birds, mammals and reptiles including endangered species.
Second, artist Nancy Chenowith Bain will be displaying her art at the Southeast Branch Library throughout the month of February. Bain works in a variety of media including charcoal, conte crayon, pencil, pen, pastel, oils, acrylics, watercolors and collage. She has won numerous awards and has displayed her art at the St. Augustine Art Association, Jacksonville Watercolor Society shows, Cummer Museum and several other galleries. The public is invited to experience her art free of charge at the library.
For more information about either upcoming program at the Southeast Branch Library, contact Cheryl Hirschi at (904) 827-6900.
Let us know what you think >>