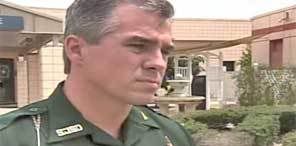 Sgt. Charles E. Mulligan reported to Historic City News that detectives with The St. Johns County Sheriff's Office Robbery-Homicide Section have arrested a Corrections Deputy following an altercation that occurred in the early evening hours July 8th.
The deputy was identified as 39 year-old William Peter Secure.
Secure reported a Burglary and Criminal Mischief to his vehicle in the early morning hours of July 7th, indicating to the Patrol Deputy that a neighbor may be the suspect.
On the following evening, Secure began to argue with the neighbor and a fight ensued in Secure's Kitchen. The victim was taken to the hospital for serious, but non-life threatening injuries.
At the onset of the criminal investigation, which occurred immediately following the incident being reported, Secure was placed on emergency leave with pay pending the outcome of the investigations.
Investigators conducting the criminal investigation completed their findings and sought warrants for several felony violations against Secure. Secure has been charged with Felony Battery ($25,000 bond), Tampering with a Witness ($15,000 bond) and Tampering with Evidence ($15,000 bond).
Secure turned himself into detectives at the Sheriff's Office around 5:30 p.m. Wednesday evening. Secure has been employed with the SJSO since December 2007.
Exercising a Florida Public Record Law exemption, Secure has requested his booking photo not be published.
At the time the active warrant was issued and prior to Secure's arrest, The Internal Affairs Section initiated a secondary investigation. This separate investigation will address due process procedures related to law enforcement employment and will be a top priority for the Section until the Internal Investigation is resolved.
Let us know what you think >>